+
Being with you, is being home,
where I'm meant to be.
You inspire me 
to be the best that I can be.
Wherever we are, we'll always find our ways
back to each other.
Because everything is better
when we're together.
Love Mantrabands
Discreet - you can wear them to work & play
Fully adjustable to fit your wrist perfectly
Hypoallergenic and tarnish resistant
Lightweight, comfortable, and durable
Mantraband Reviews
Customer Reviews
Write a Review
Ask a Question
07/17/2020
Debra W.

United States
Our motto of love
I and my partner love this mantra! One of our favorite musicians created a song called 'Better Together' and We sing it to each other. When I saw you had this bracelet, I had to get one! We both love it! Thanks Mantra!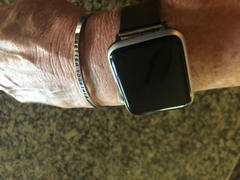 For my daughter
I purchased this Mantra for my Daughter. She and her fiance' will be married in May. The sentiment behind the Better Together fit them to a tee!. Couldn't have captured what I see in their feelings toward each other any better. Tears were shed. :) but happy ones.
Its perfect
The saying it comes with is perfect for my wife and I, and it's true we are better together